Manage bills and payments electronically!
Save time, effort, and postage by using Bill Pay to pay businesses, organizations, or other people! Whether you're using Online or Mobile Banking, you can pay bills in seconds!
To enroll, log in to Online Banking from your Laptop or Desktop computer, click on Bill Pay from the left menu and follow the enrollment instructions. (You will not be able to enroll from the Mobile App)
---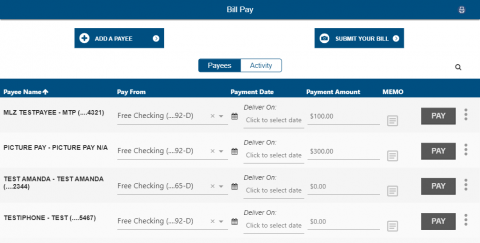 Bill Pay Benefits:
More secure than mailing a check
Available 24/7/365
Simple to use
Use with Online or Mobile Banking
Create recurring payments
View 18 months of history
FREE to use1


Bill Pay with Online Banking:
Login to Online Banking
From the brown menu bar, select Pay a Bill or Pay a Person
To access the full Bill Pay site, click on Bill Pay on the left menu, then on right side select Manage Payments
Bill Pay with Mobile Banking:
Login to Mobile Banking
Choose Payments from the left-hand navigation bar
Pay an existing vendor or create a new payee
*If no payment activity is conducted within 30 days, a monthly service charge of $5.00 will apply
Picture Pay:
Using your smartphone, you can upload a picture of your bill to pay it without extra setup!
Login to Mobile Banking
Navigate to Bill Pay
Choose Submit Your Bill near the top
Take a photo of your bill using the on-screen guides
Select the account to pay from, enter the dollar amount, choose the date to send, and include an optional memo
Submit your bill for payment!