Investing in YOU
We believe that your banking relationship is one of the most important investments you can make in your financial future. The relationship you have with your bank should be lifelong.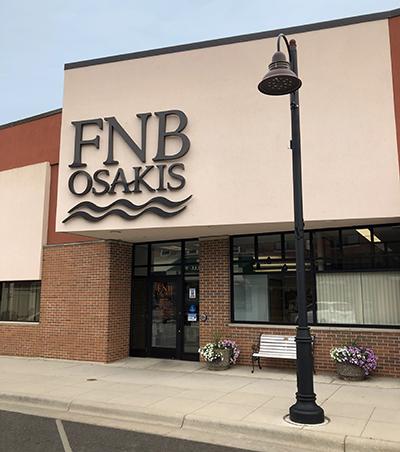 At First National Bank of Osakis, we put our knowledge, products, and passions into helping you navigate your financial life. We are committed to establishing an honest, life-long relationship, where we earn your trust and you have ours. We aspire to be the financial home that helps you make good decisions throughout all of your life stages.
It starts with Investing in YOU. The choice to invest your money in our institution is an investment in yourself. Whether directly, through the convenience of our products and the honesty of our guidance; or indirectly through our investment of volunteer time, loans, and donations in the Osakis community--an investment in FNB Osakis will yield a lifetime of returns!
Best of all, with the investments we've made in our digital environment…
...you can always bank with people you know, anywhere you go.
---
What others are saying...
Great customer service. I love the small town atmosphere where everyone wants to say hi and are interested in how you are doing. The loan officers are great to work with also. They are knowledgeable and very willing to work with you to make things happen.

Allison T.
Great people who work hard for you. Highly recommend Osakis FNB.

Shad S.
It's great to have a bank that knows who you are and knows your business practices. Nothing tops small town USA banks. Decisions made locally. Let them know what you need and they will come up with ideas to make it work if at all possible.

Judi A.
Everyone is helpful and friendly. They remember your name and are efficient. Nothing better than small town banking!

Deb M.
I like my home town bank. They explain everything I need to know when it comes to car loans, first time home buyer, and just general questions regarding my account. I have visited other banks for loans and they just make you feel rushed or explain things in terms I do not understand. I never feel that way with Osakis First National Bank, and for that I will never switch banks.

Cait M.
When I first moved to town I had 2 kids 2 jobs and bad credit. They gave me an opportunity to buy a house and helped the whole way. The bank continues to impress me with every transaction. They are friendly and understanding. Would not bank anywhere else.

Angela B.
Wonderful, friendly staff members and service! Couldn't ask for a better small town bank.

Noelle K.
They have it all! From great on-site customer service to simple-to-use online banking! Now there is no need to worry about making it to the bank with a busy schedule, depositing and transferring funds is easy no matter where you are located. If I ever have a question, I just call and they always get what I need done! Their level of concern for their customers puts this bank above any others for me! Stop in and visit with them, you won't be disappointed!

Tyler D.